---
🍕 WHO WANTS A 'PIZZA' THE ACTION?! 🍕
---
---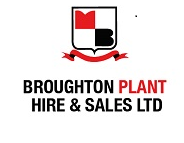 Our London Area Sales Manager, Liam Davoren, dropped in on our valued client, @Hanover Building Services Ltd, to bring them a well-deserved pizza lunch after a long, hard week.
Many thanks to ALL of the Hanover team, for your support over the years and we look forward to working together in the future.
✅Why not drop Liam or any of our other Area Sales Managers a line? You never know, there might be a FREE lunch in it for you!
✅Contact details below:
📞 We offer a truly National coverage from our depot network in: LONDON, THE MIDLANDS, SOUTHWEST and NORTHEAST.
✉️ Email your local depot – Call the team:
LONDON       [email protected]                     01708 383350
MIDLANDS    [email protected]             01773 609789
SOUTHWEST [email protected]         01275 875587
NORTHERN   [email protected]            0191 406 0292
🗣 Live chat – speak with a member of the team here https://www.broughtonplanthire.co.uk/how-to-hire/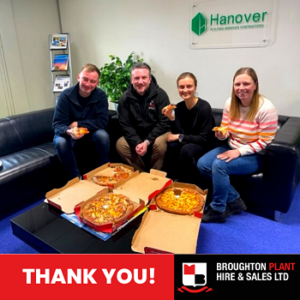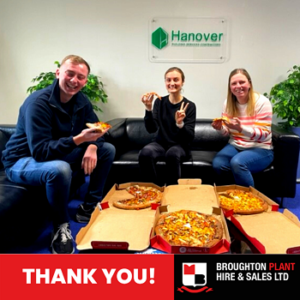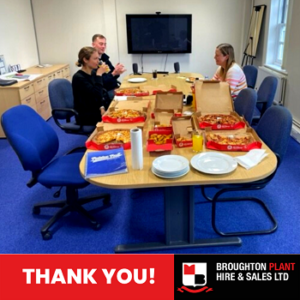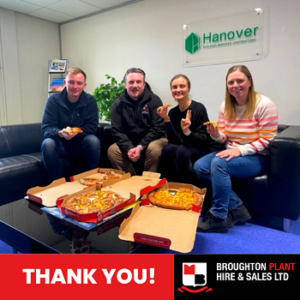 #TeamBroughton #BroughtonClients #CustomerAppreciation #Broughton #CustomerService #ValuedCustomers #HanoverBuildingServices #BestClients #ToolHire #Pizza #PlantEquipment #EquipmentHire #PlantHireUK #BroughtonPlantHireAndSales