---
♻️ WE HAVE RENEWED OUR CARBON NEUTRAL STATUS!♻️
---
---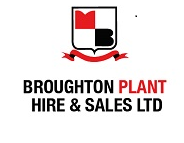 Broughton Plant Hire and Sales, are very proud to be a certified as carbon neutral. We continue our sustainability journey, meaning our carbon emissions are offset as we have invested in a project to eliminate those emissions. We are always researching ways that we can help the environment in our service offerings.
Partnering with a global sustainability team, @Climate Partner, we can make some big strides on our sustainability journey towards becoming carbon net zero.
We are supporting the wind energy project in Rural South American communities. These wind power plants create sustainable emission free energy which feeds clean and renewable electricity.
You can find out more about the projects we are supporting, our certification, and how much energy we have offset:
https://fpm.climatepartner.com/tracking/19100-2207-1001/en
Our Sustainability Policy describes in further detail what our objectives are as a business. Find out more:
www.broughtonplanthire.co.uk/sustainability-policy/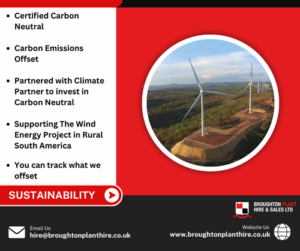 #Sustainability #SustainabilityPolicy #ClimatePartner #CarbonNeutral #WindPower #RenewableEnergy #CarbonEmissions #CarbonNeutralCompany #PlantEquipment #PlantHireUK #PlantSalesUK #PlantMaintenance #ServicingPlantEquipment #BroughtonPlantHireAndSales